Retail Online Banking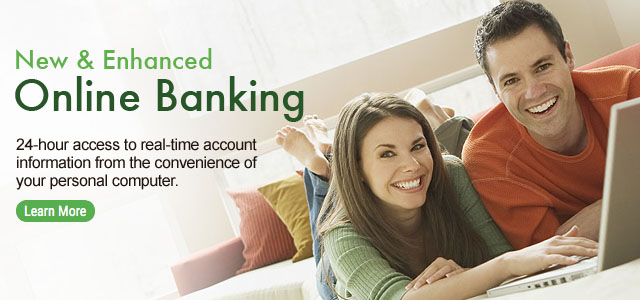 RETAIL ONLINE BANKING SERVICES
WELCOME TO THE NEXT GENERATION OF ONLINE BANKING SERVICES
Online features include:
Personal Online Banking with real-time account information
Enhanced Online Security
Single sign-on to access online banking, bill pay, and eStatements
Running balance on all your banking accounts
New and Enhanced EZ Pay Bill Payment from Check Free
Quick Pay Zone – pay bills right from your home page
eAlerts – receive email or text alerts about your account activity
External Transfers – transfer funds to and from accounts at other financial institutions
Mobiliti™ mobile banking and mobile capture
Your account history will be available in the new system. Once you've logged on to the new system, make sure all of your accounts are displayed, and make sure your personal information and preferences are set up properly. Please note that any eAlerts you've set up in the old system will not be available in the new online banking system.
Setting up your eAlerts:
It's easy to set up your eAlerts and new options will be available – just click on the megaphone icon at the top of the home page.
It's a good time to sign up to receive eStatements, rather than paper statements.
EZ Pay Bill Payment Users
Our bill pay service is not changing. There will be no changes to your payees.
FEES AND ENROLLMENT
External Transfers
Customers enrolled for online banking automatically have access to external transfers.
There is a $3.00 charge for a standard external transfer. This fee only relates to a transfer to other institutions. Transfer from other institutions to Cecil Bank accounts are done at no charge.
eStatements/Documents
eStatements are free.
Select the Profile link at the top right of the home page from online banking to enroll.
eStatements are now located under Accounts by clicking on the Documents tab.
EZ Pay Bill Payment
If you are already enrolled for bill pay, you are automatically enrolled for new and enhanced EZ Pay Bill Payment.
Our personal bill pay service is free for the first 15 bills per calendar month and $0.75 per additional bill.
Optional Overnight Payments are now available. Fees are displayed.
ONLINE BANKING Q & A
What is Personal Internet Banking?
Personal Internet Banking is our online service that allows you to access your account information 24 hours a day, 7 days a week. Using Personal Internet Banking, you can:
View real-time account balances, check images and history
Access checking, loans and CDs 24-hours a day
Export history to financial software or spreadsheets
Transfer funds between accounts
Pay bills online
Request stop payments
What do I need to bank online?
To get started, click the First Time Login, agree to the terms and conditions, complete the enrollment form and you'll be banking online in no time at all.
Who can I call if I have questions while using the Online Banking system?
Contact one of our Online Banking Coordinators at 410-392-8312 for Christy or 410-392-8302 for Jeanette or any of our convenient branch locations.
What types of accounts can I view with Personal Internet Banking?
With Personal Internet Banking, you can view all your Cecil Bank accounts, as well as loans.
How often is my account information updated?
Account information is updated in real-time, offering you the most current information available.
How secure is my personal account information?
Cecil Bank uses the latest Internet security available, including secure communications (SSL), firewalls, 128 bit encryption, and operating systems that have been designed to provide maximum security.
Why am I signed off sometimes and I have to sign in again?
If Personal Internet Banking has been inactive for a period of time, Personal Internet Banking may automatically sign you off to prevent unauthorized use of your accounts, and to prevent others from viewing your information.
Can I pay my bills using Personal Internet Banking?
Yes. You can make payments to anyone in the United States from the utility company to the local babysitter. You may schedule payments to be made immediately or on a specified date in the future. You can even set up recurring payments so you do not have to worry about paying your regular bills. Recurring payments can be set up weekly, semi-monthly or monthly. Bill Pay eliminates the need for writing checks or addressing envelopes. More importantly, it saves you time and simplifies your busy life.
What type of account is required for Bill Pay?
Bill pay can only be used with a checking account.
May I pay bills from more than one checking account?
Yes.
How far in advance should I set up a payment to ensure it is paid on time?
We recommend that payments should be made at least five (5) business days in advance of the due date of the payee.  The bill pay calendar will assist you on when the earliest time you can submit your payment.
Can I transfer funds between my accounts?
Yes, you can transfer funds between any of your Cecil Bank accounts.
Do I need extra software or hardware to use Personal Internet Banking?
No extra software is necessary. You can access your Cecil Bank accounts from almost any PC that has Internet access.
Will Personal Internet Banking work with my current Internet Service Provider?
Yes, Personal Internet Banking works with any ISP.
Can I access my accounts from both home and work?
Yes, you can access your accounts from almost any PC.
Can I access my accounts from any browser?
Yes, you can access your accounts from almost any PC on any current browser version.  We recommend the following browsers:
Internet Explorer, version 11
MS Edge
Chrome (current version)
Firefox (current version)
Safari, version 7.0+
Safari for iOS, version 7+
Retail Banking Training