Card Guard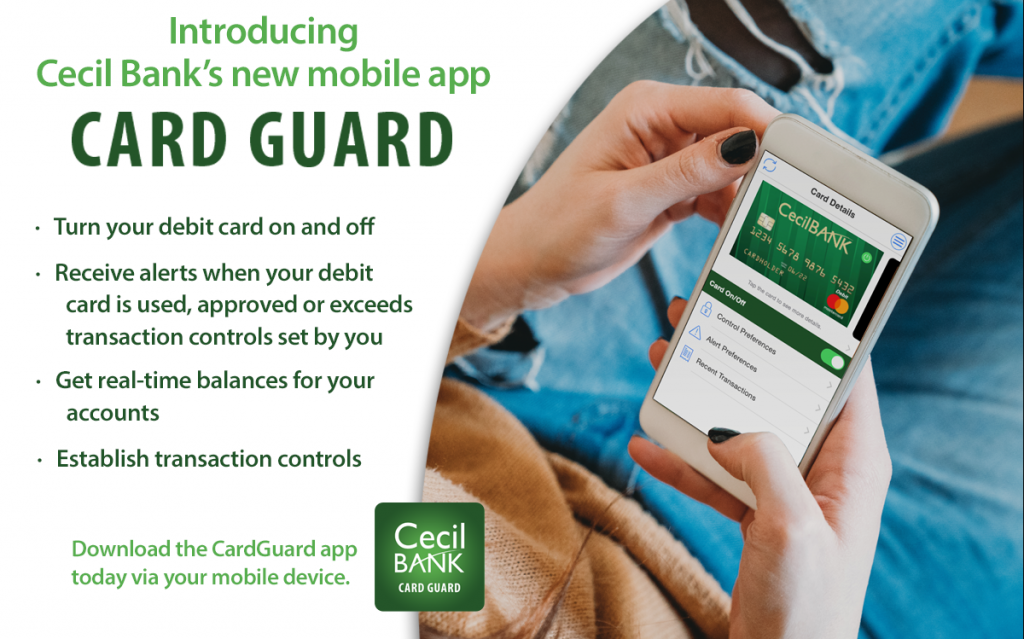 Please click the picture above to see a quick flash demo on our Card Guard smart phone application which explains the basics of the product.
CardGuard® lets you:
Turn your debit card on and off
Establish transaction controls for dollar amount limits, merchant categories and geographic locations
Receive alerts when your debit card is used, approved or exceeds the transaction controls set by you
Stay informed of potential fraud with alerts on attempted, declined transactions
Get real-time balances for your accounts
Control Spending
If you're trying to establish or stick to a budget, CardGuard® can help. Set spending limits for general use or specify thresholds by merchant types, such as gas, groceries or retail stores.  You can also establish these controls by location.  The flexible app lets you change these parameters anytime with ease via your mobile device. Going on vacation? Holiday shopping? Simply update your transaction controls to fit your spending needs.
Fraud Protection
A lost or stolen card is just one area of concern in today's world where Identity theft, skimming and other attacks are an unfortunate reality. Turning your debit card off when you're not using it helps safeguard against fraud. When your card is "off," no withdrawals or purchases will be approved. Transaction controls that allow your debit card to work only in specific locations or geographic areas, add another layer of protection. And real-time alerts keep you informed when your card is used or declined.
Review Balances and Transactions
Monitor your finances from anywhere. Use the CardGuard® app to check your account balances.
Business Use
CardGuard® is a great tool for controlling business spending on a debit card. Use the transaction controls for merchant codes, location and thresholds to ensure employee spending adheres to your company policies
Debit cards offer both convenience and risk. You can make purchases as easily as using
credit, but if your card falls in the wrong hands, your personal accounts are vulnerable. Now, you can safeguard your information with CardGuard®, the mobile app that lets you deactivate your debit card when it's not in use. Protect your debit card against fraud and theft by turning it on and off, and get real-time alerts to ensure your card is used only by you. 
With the CardGuard® app, you can save time and gain peace of mind knowing you can control the cards in your wallet with the phone in your pocket. If you can't find your debit card, you can instantly lock the card to prevent fraudulent charges from being made. Don't worry; you can also instantly unlock the card when it turns up in the dryer or refrigerator. (No judgment.) With CardGuard® you can also set spending limits, get purchase alerts in real time and limit transactions to a certain area using your phone's GPS, all while having the ability to personalize your own security settings to suit your busy lifestyle. With convenience like that we may see less of you here in the branch, but we'll still be here if you need us. 
Overspending is easy. Now, sticking to your budget can be too. Take control of your finances with CardGuard®, a new mobile app for your debit card that lets you set spending thresholds, specify merchant types and turn your card on and off. Want to spend $100 at the grocery store? Limit your spending at the shoe store? CardGuard® empowers you to control your debit card spending with an easy-to-use real-time app.
Sign up by downloading the CardGuard mobile app today from the Apple App Store or Google Play Store.